This blog celebrates all the wonderful disabled folks thinking and writing about science fiction, fantasy and disability. We list some great resources at the end to help you delve deeper.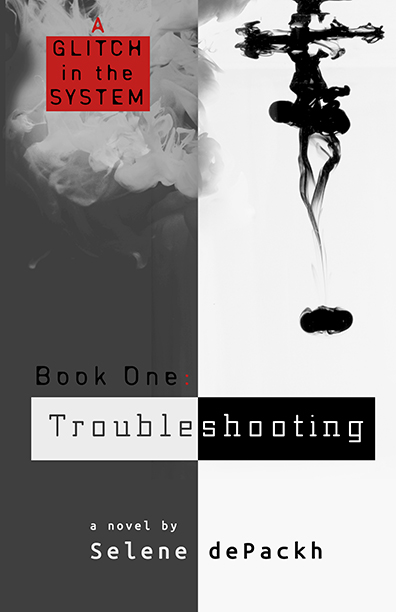 Our next blog will be by Reclamation Press author Selene dePackh a fantastic writer of Neuropunk dystopian science fiction. Her book Troubleshooting: Book One, Glitch in the System series will be available for sale in January 2018.
Why do disabled people care about Science Fiction / Fantasy?
Science fiction and fantasy (SFF) genres lend themselves to creating amazing new worlds. But far too often depend on tired old human stereotypes. Disabled people rarely do well in SFF. We are controlled in nonconsensual ways through medical alteration disguised as "cures" or "enhancements", incarceration to segregate and "retrain" us, or outright eugenics masked as being "for the greater good" but always "no great loss."
As Shosnana Kessock, a disabled writer, notes that in SFF:
"In a stable society, the disabled are tolerated, if not welcomed. In the face of disaster, they are a liability, and one to be excised for ease of the able-bodied."
If disability is not allowed in futuristic imaginings, then as disabled writer Kathryn Allan points out "what does that tell people with disabilities of how they are valued today?"
In researching this blog, I came across numerous accounts of people relating how they found SFF literature during extended periods of being in bed due to medical conditions. British disabled writer Jane Stemp recalls:
It seems to be a natural reaction in the sterner type of critic to dismiss fantasy as escapism: But at times there is nothing so useful as escape, especially from a hospital bed.
Do the SFF writers even imagine disabled people, particularly disabled young people, reading them? Are these writers who create enormously complex worlds, who build entire societies, so limited in their conceptions of human worthiness as to restrict the survivors of their worlds to only nondisabled people?
All readers need to see themselves reflected in SFF. The teenage Jane Stemp remembers:
"When I did encounter disabled characters in fantasy or science fiction, the sense of recognition was so strong as to add an extra dash of reality to what were otherwise unreal situations."
But this initial joy soon faded as she saw negative themes about disabled people repeated: "I was by now well versed in the clichés that infest the pens of most able-bodied writers, however well meaning."
"Infest the pens" – brilliant.
Disabled writer Nicola Griffith notes: So much of the imaginary future is 'perfect' because crips don't exist. The message is physical perfection = utopia.
Yet she fought back by using SFF to reimagine illness from disability-empowered perspectives.
"SFF gives great freedom to make the metaphor concrete. So I can make multiple sclerosis a literal monster. I start with a What If. What if MS were a monster? What if prosthetics were almost unnoticeable? Then go deeper."
When Jane Stemp designed her novel Waterbound "I was very, very clear from the start about one thing above all: There would be no "cure", miracle or otherwise"
Disabled People Write Themselves into SFF
Whenever there's a call for disabled people to write SFF, the response is immediate and overwhelming: Twitter chat #CripLit: Science Fiction, Fantasy & Crip Futurism; the Deaf Poets Society's Crips in Space; the Uncanny Magazine Disabled People Destroy Science Fiction; or the anthologies Accessing the Future and Disability in Science Fiction.
Whether it's attraction to a genre that as Kathryn Allan says: 
no other literary genre comes close to articulating the anxieties and preoccupations of the present day as clearly and critically as SF, making it a vital source for understanding advances in technology and its impact on newly emerging embodiments and subjectivities, particularly for people with disabilities.
Or from Alice Wong and Sam de Leve's introduction to Crips In Space:
Whether they #SayTheWord or not, there have always been stories about crips in space–and our presence in those stories underscores the underlying truth that d/Deafness and disability are and will always be a fundamental part of human existence.

Disabled writers are creating exciting new work, demanding publishing space and challenging the existing paradigms of the stereotypical and eugenic roles assigned to disabled characters.
At the base of it all is Allan's point that SFF
opens up spaces to question/challenge/explore what it means to human, and, perhaps more importantly for this conversation, who gets to be counted as human.
I found Shoshana Kessock's essay on disabled people in apocalyptic stories a particularly compelling mix of disability pride, rage against an entire genre's easy dismissal of disabled lives and fierce fighting back. She ends her essay this way:
My own medical status has made it difficult to enjoy stories in which I would be annihilated pretty quickly, or else considered selfish for trying to survive.

I envision if there was a zombie apocalypse, I'd be there, whacking zombies in the head with something and then zooming along in my wheelchair until my medicine runs out.

There'd be no noble "save yourself!" from me unless necessary due to circumstance, and not because I would be a 'burden.' Instead, I'd strive to be a comfort and an ally to my friends and those around me, contributing to the whole as I do in my everyday life, right up until the end.

Would that the fiction I consume had the same confidence in me as I try to have in myself.
I am going to end with words from Kathryn Allan's introduction to Accessing the Future, a collection of disability-perspective SFF writings.
The stories and images of Accessing the Future are not here to pacify an audience who may be uncomfortable with disability, but to share disabled people's stories of disability in all their wonder and sadness, hope and rage.

We wanted stories of adventure and failure (because it's the determination to act that matters); stories that scream with the passion and intensity of someone who knows what it is to suffer or face discrimination (but who refused to be made to disappear because it would be "better" for their condition to be "cured" in the future).

These are stories that refuse to go gently.
RESOURCES
Accessing the Future: A Disability-Themed Anthology of Speculative Fiction Kathryn Allan and Djibril al-Ayad (Editors)
Bleeding Chrome: Technology and the Vulnerable Body in Feminist Post-Cyberpunk SF  by Kathryn Allan
 #CripLit: Science Fiction, Fantasy & #CripFuturism by the Disability Visibility Project
Crips in Space by The Deaf Poets Society
Disability in Science Fiction: Representations of Technology as Cure (Kathryn Allan, Editor)
Devices and Desires: Science Fiction, Fantasy and Disability in Literature for Young People by Jane Stemp
Disability Erasure and the Apocalyptic Narrative by Shoshana Kessock
Disabled People Destroy Science Fiction by Uncanny Magazine
Five Positive Representations of Disability IN SF
SFF resources compiled by Nicola Griffith
A Short List of Science Fiction & Fantasy that Celebrates Disability by Elsa Sjunneson-Henry