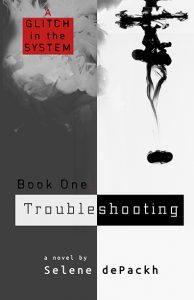 The authoritarian dregs of collapsing society require absolute compliance. Noncompliance is deadly.
One neuroqueer teenager, betrayed by the juvenile justice system, fights a desperate struggle to survive.
Against all odds, the rebellious sexworker retains her humanity with the support of another prisoner.
Unsure who(m) to trust, she discovers her lawless, firearms-loving friend is part of a criminal enterprise that holds the key to her escape.
On the run, with nowhere to hide, she's hunted into a life of secrets and conspiracies concealing a shattering human experiment.
See author Selene dePackh's searing dystopian saga through the eyes of her fiercely female-genderqueer narrator, and learn what it is to be autistic in the new world order.
Selene dePackh creates innovative story lines that expand the science fiction genre of cyberpunk into an entirely new subcategory which she calls Neuropunk, which draws on her own autism to immerse the reader in a firsthand experience of institutional bias. Her powerful characters spring off the page. Her books draw the reader into a turbulent alternative reality based in primordial myth and grounded in contemporary social upheaval.
Troubleshooting: Book One, Glitch in the System series demonstrates her command of the genre and her ability to subvert it.
In addition to writing compelling books, Selene dePackh creates digital illustration and graphic design. She is a classically trained artist in the European Academic tradition.
Learn more about Selene at:
Website: https://aspinthegarden.com/
Facebook: https://www.facebook.com/SeleneDePackh
Twitter: @artificts
Instagram: https://www.instagram.com/depackh/